Building User Research Teams – The Book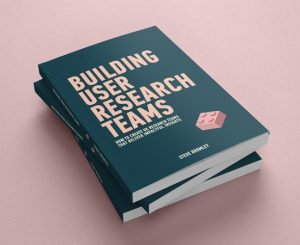 #1 New Release on Amazon for Web Site Design
#1 New Release on Amazon for User Experience & Website Usability
Building User Research Teams is a practical guide covering how to start a research team of any size. It covers the whole journey, from convincing colleagues that they need a user research team, through to the development and implementation of the tools and processes needed, to running high quality studies and mapping the future development of a growing research team.
Contents
Part 1 – Make the case for research
Learn how research and design work together in product development
Explain the benefits of research in business terms
Avoid some common mistakes for new teams
Educating colleagues about research
Make friends with other disciplines
Create a budget for research
Set research standards
Part 2 – Build research capability
Set up participant recruitment
Build a user research lab
Define a research process
Create research templates
Store team knowledge and research files
Meet ethical and legal standards
Part 3 – Run good research from the start
Define research objectives
Plan research studies
Run studies
Analyse research findings
Debrief findings and run workshops
Continually improve and iterate the research process
Part 4 – Grow a new team
Grow a team over time
Create a demand for research
Develop new research methods
Hire and develop researchers
Make research collaborative
Create a research repository
Read bits of the book
Article about building new research teams will be released throughout 2020. Find them on my personal blog.
What the reviews say
"I wish this book existed 2 years ago, when I was first making the jump to user research manager."
"An extremely useful resource – A practical step by step guide of how to build a User Research Team from scratch"
"The demand for user researchers is on a rise, and with that comes the need to organise the bits that enable research insight to pack a punch in design decisions. This was timely read for me, loved it."
More than a book – it gives us clarity on how to advocate for UX in a company and gives a lot of good tips and advice on how to get everyone on board with UX."