After completing a post-graduate course, it can be hard to work out what to do next. I often get emails from people interested in games, but unsure of what to do after university. How to move from academia into the games industry is a common topic that students bring to me.
In this article, we explore why research-focused PhD's and MSc's should consider becoming user researchers in the games industry. We also cover some tips on how to get your first role.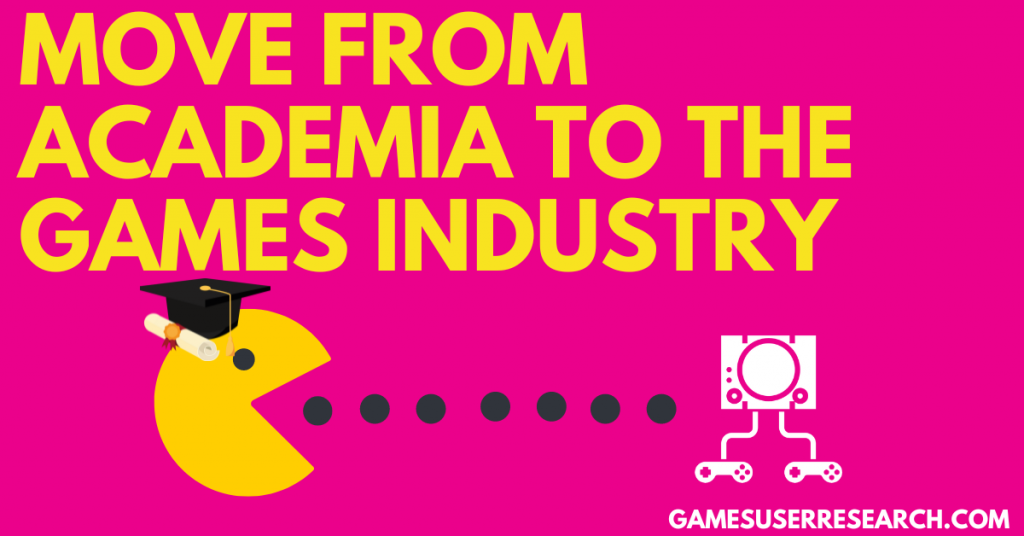 What is games user research?
Game user researchers run structured playtests through game development. They apply best practices from science and UX to find reliable answers to game design questions.
They use qualitative and quantitative research methods to help game designers + developers make successful games. The type of questions that we help game studios with include:
Do players understand what they are meant to do?
Is the difficulty of this level correct?
Does the tutorial teach players successfully?
Why do players drop out of the game after two weeks?
Are the controls hard to use?
Why work in games user research
Game development is a passionate industry full of people who deeply care about their work. Games User Research gives people with academic research experience the opportunity to combine their passion with games with the expertise they have developed in postgraduate study.
68% of people working as games user researchers have postgraduate degrees, many from psychology, neuroscience and UX backgrounds. Junior roles can earn between $22,000 and $100,000 depending on where in the world they are. They also have very high levels of job satisfaction (source: 2021 Games Research & UX salary survey). This can make it an attractive industry for people looking to move on from academia and get started working in a high profile and entertaining industry.
What transferable skills do I have from academia?
Any experience you have of designing and running studies will be hugely beneficial. Many degree programmes give you the opportunity to practice core research skills such as:
Identifying research objectives
Designing studies
Moderating qualitative studies
Analysing qualitative and quantitative data
Presenting results to diverse audiences
This is all hugely relevant for the role of a games user researcher – designing and analysing studies in a robust and believable way is essential, as is being able to influence non-researchers.
Jess Tompkins wrote a fantastic thread on drawing out the relevance of your experience, see the thread here:
What other experience will you need to develop
One of the most common gaps that people coming from academia have is exposure and experience with real-life games development. This understanding of how games get made, the roles involved, and the pressure that game devs are under is essential to identifying sensible research objectives, making sensible recommendations and convincing teams that user research is worthwhile.
When working with people to help them get their first games user research job, I recommend finding opportunities to work with indie developers to fill out this experience. Do ask me about it if interested!
Getting your first job
A typical hiring process involves reviewing a CV, a series of interviews, and completing a research task.
Writing a good CV
During the CV review, employers will be looking for evidence that you can design and run reliable studies and apply a variety of methods including interviews, observation and survey design. Make sure that your experience with different research methods is explicit in your CV.
Two-thirds of hiring managers also expect to see some evidence of previous research work – such as a portfolio or a case study.
Acing the interview
Interviews probe deeper into your experience designing and running studies, but will also want to explore your ability to work with other professionals. User researchers have to be excellent communicators in order to dig out the appropriate research objectives from colleagues and to help them apply your findings to their own work. Showing an ability to work with other disciplines is essential.
The research task
Many hiring managers ask candidates to perform a usability review as part of their hiring process. This involves playing through a game, identifying usability issues, and producing a report that communicates those issues to the developers. This is a skill that can be practised and is one of the activities that I have done with mentees before. You can learn more about how to do that from my video here.
What if I don't have a post-graduate degree
Roughly a third of games user researchers don't have a post-graduate degree. A degree is one way of proving that you can design high-quality studies, but it isn't the only way. Experience in the games industry, other research experience, or doing courses can help convince a hiring manager that you have the necessary research skills to get an interview and prove yourself.
Standing out from the crowd
Unfortunately, entry-level user research roles in the games industry can be rare and competitive, so it's really important to stand out from the pack when applying.
I've spent the last year interviewing games user researchers about their careers and put together a short e-book that covers their top ten tips for aspiring games user researchers. It includes contributions from respected researchers from top game studios such as Activision, EA Blizzard, PlayStation and more. It is essential reading if you want to get your first games user research job.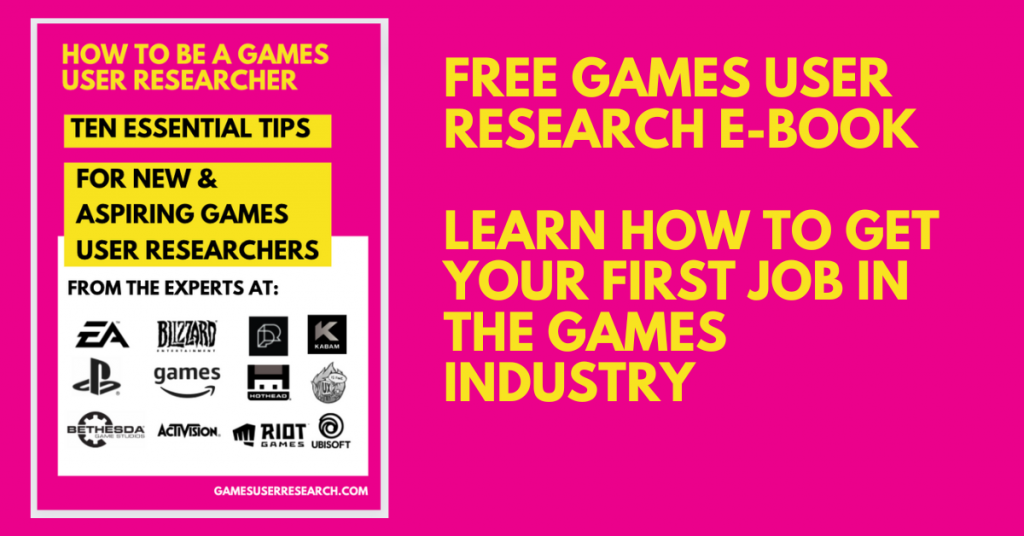 Signing up to receive the book also gets you free monthly games user research lessons by email, that I send to over 1,000 aspiring researchers. We cover topics such as how to write high-quality surveys, how to analyse playtest data, and how to develop a UX portfolio. Sign up to get free monthly lessons, and the free e-book today.