The original pre-launch post continues below…
My next book teaches you how to be a games user researcher
I started and have run the Games Research and UX community's mentoring scheme since 2015. This has been done with the help of many dedicated mentors and organisers, most recently Hannah Murphy who has great plans for how to improve mentoring for 2021.
In that time the mentoring scheme has partnered over 150 students and junior researchers with professionals from top game studios and helped many find their first job in games.
In my chats with mentors and mentees, I've noticed patterns in what people want to know about working in games user research. Questions like 'what is it like working in games', 'how do you run GUR studies', 'how do you get experience', come up repeatedly. So I'm attempting to address those questions.
A new book about games user research
🎮📖I'm excited to announce my next book, 'How To Be A Games User Researcher", is almost ready and will be released early in 2021. It covers what working in games is really like, how to plan and run high-quality user research studies for video games, and how to get your first job in games.
I'm extremely grateful to the GUR and UX expertise of James Berg, Nida Ahmad and Jess Tompkins who have fed into drafts of the book, and helped improve it immensely
I'll be sharing more details about How To Be A Games User Researcher soon, and lots of exciting announcements to come – but if you are interested in being the first to know when the book is ready, get free stuff, and to get an early-bird discount on the book, sign up here:
https://gamesuserresearch.substack.com/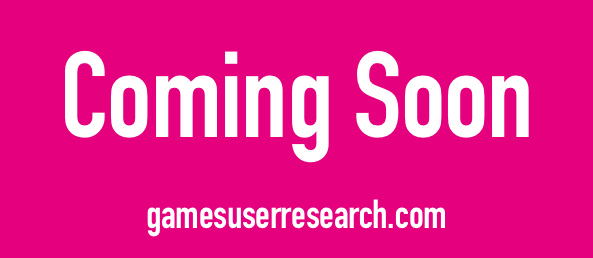 The previous book – how to start a new user research team
While you are waiting, do check out Building User Research Teams to learn more about how to start a new user research team, and embed a user centred design culture in any company. The book is available from Amazon here.