My new book, How To Be A Games User Researcher is out today.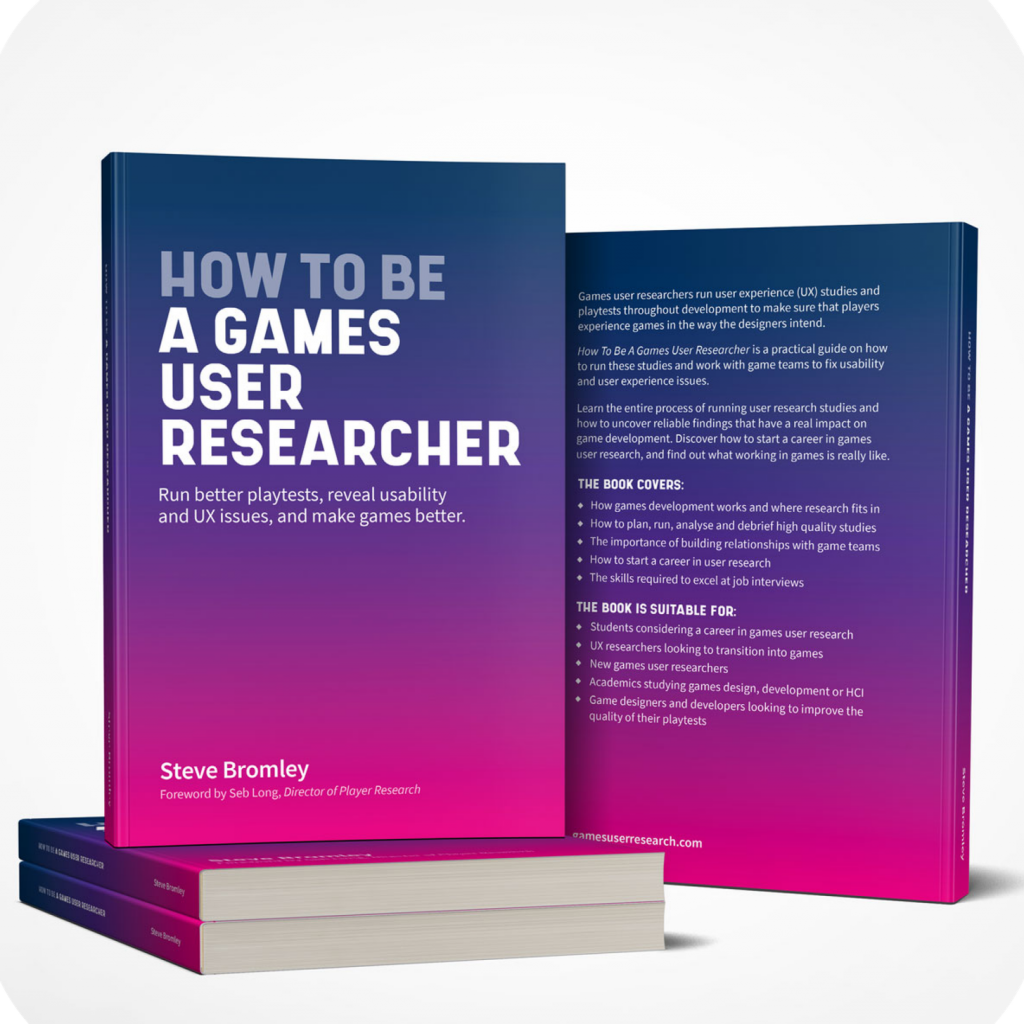 The book covers a lot of the topics that have been particularly helpful to games user research mentees in the past.
The book opens with an excellent foreword from Sebastian Long, the Managing Director of Player Research, and an introduction to why games user research is an important part of the gamedev process.
Part one, how games get made gives a background to games development, and what working in games is like, to decide whether this is the right career for you.
Part two, how to run games user research studies explains how to plan and run reliable playtests, the bread and butter of being a user researcher, and how to work well with other disciplines.
The final part, starting a career in games user researcher covers how to develop and demonstrate the right skills to excel in job interviews, and get a job in the games industry.
Is the book for me?
It's written for people who are new to games user research (GUR), so is hopefully ideal if you are:
A student, academic or games enthusiast, looking to decide if GUR is the career for you
Just starting a games user research or UX role, and want to do a great job
A user researcher working outside games, looking to make the transition
A game developer, looking to get more from your playtests
If you have been working in GUR for a few years, a lot of the contents will be familiar to you already, so maybe this book isn't quite right. Check out the 2018 Games User Research book instead (it goes deeper on methods)!
Is the book any good?
I hope so. I asked some excellent user researchers and UX designers to feedback on it during the many draft stages, which helped improve the contents massively.
Some of the reviewers were nice enough to write testimonials, to help you decide whether the book is appropriate for you…
Jess Tompkins, UX Researcher at EA:
This book is essential reading for anyone aspiring to work in games user research as well as those who are early in their careers. Steve leverages his extensive industry experience to craft a comprehensive overview of the games user research discipline, including what to expect on the job, user research methodologies, interacting with stakeholders, potential pathways, and more. This is a book I sincerely wish I had at my disposal when I was a grad student making my transition to industry work; there's a wealth of knowledge here to put into practice!
Nida Ahmad, UX Designer and Researcher at Netspeak Games:
A must read for UX/UR professionals & teams looking to include UR as part of their development
James Berg, Games Research and UX Special Interest Group Chair:
This book is an introduction to the core knowledge you actually need to run games user research. It's not fluff, it's crunchy
Seb Long, Director of Player Research:
Steve Bromley's book is an exceptional catalogue of professional advice, purpose-built to develop your skills in this domain. Every page is filled with Steve's hard-won lessons and examples from the day-to-day realities of game development… I wish I had had this resource in my early career.
Heard enough? The book is available from Amazon. If you're having difficulties getting it in your country, drop me an email and I'll help out!