Harry Brignull has introduced the idea of Dark Patterns – website's using UX principles to promote business goals over the end-user's experience. When shopping online for a replacement watch, I stumbled upon a particularly nasty one. I thought I'd share:
Let's start with some back-story. While in Hong Kong recently, I found the most amazing watch I could possibly imagine. It's Chairman Mao, and it waves with each second. I had to have it, and bought it straight away from the local market.

Probably because I bought it from a market, it'd broken before I got back to the UK – it wouldn't wind up, and just stopped waving. I was heartbroken. Watch repair shops refused to touch it (possibly due to the watch's cheap and nasty nature!). It looked hopeless until I found a shop online which sold the very same watch for just £5. I was once again happy.
Here's the page I was going to buy it from: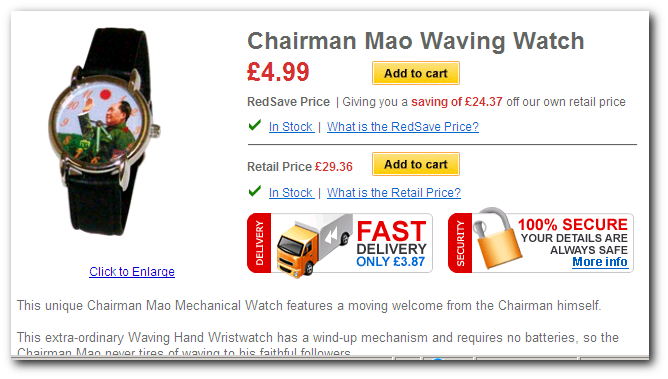 A saving of £25? How could I go wrong? So I added it to my basket:

Oh hey, I get a free 'thing' too. What's that? Doesn't really matter does it, I still get my watch for £5.
On closer inspection, the other item in the basket is not free. It's the opposite of free. It's expensive. It's a subscription to their 'RedSave' programme, which costs £20 a month. Googling RedSave turns up a wide range of complaints about people who have fallen for this scam, and unwittingly signed up for a monthly charge without realising, and ended up with a huge bill.
Removing RedSave from your basket jacks up the price of the watch to £30. So, to buy the watch at a reasonabe price, you have to sign-up for this monthly charge. Because of this, and particularly because this transaction is snuck into your basket without advertising the full terms of the deal, this meets the "sneak into basket" dark pattern discussed by Harry Brignull. This must surely be bad business sense from a customer experience perspective– customers are either going to be unhappy because they were forced to sign up for a subscription, or oblivious to the huge charge they're racking up – which must be RedSave's true business goal!
I still haven't replaced my watch.